Standard Podcast:
Play Now
|
Play in Popup
|
Download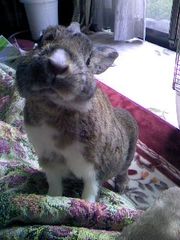 Hi =) My name is Momoko. Please call me Momo.My bunny's name is Moni. Moni means love in Hawaii.
I was born and brought up in Yamanashi, so I was surrounded by mountains and saw Mt.Fuji everyday. I used to live in California when I was 5-12. I love California because it has great weather, food, and friends. I really wanna go back there!!
My characteristic is very active. I don't like staying at home. I love to go shopping at Shibuya 109 and also going to concerts and events. I go at least 3times a month. My favorite singer is Jin Akanishi from KAT-TUN. I will be going to LA to see his show in June.
I sometimes work as a cast in movies and dramas. Last year I was in "Orutorosu no inu", "hidamari no basho","BECK","Hanamizuki" etc. But it's only a "Choi yaku" But I enjoy watching the filming and sometimes we get to talk to actors and actresses so it's very exciting.
 Thank you !!