Standard Podcast:
Play Now
|
Play in Popup
|
Download
Hi!!This is Narumi,Kaho and Hanako. 
We read of "Happpiness" by Shin.This story is a man who got cancer.But he had recover from serious cancer.His recovery was a miracle.He recover cancer because his family did not give up.So, we think family have of the family's love.Love has strong power of medicin.we believe to family's love. 
And we did interview to 20 people about "What kind of fashion do you like?".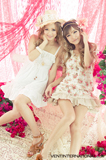 In resolt, First 5 people chose Simple.They said bacause simple fashion is comfortable.Also it is easy to coordinate.Famous bland of simple are old clothes and UNIQLO. 
Secind,3 people chose casual and UNIQLO.Casual is pretty and simple.Famous bland of casual is Retro girl and lowlys.And UNIQLO is reasonable and simple. 
Third,2 poeple chose Surf.Surf  looks cool.In summer,they want to wear this fashion. 
Fourth,a people chose American casual,Sports wear,Pastel and princess fashion.They said American casual is so cool.Sports wear is easy to wear.For examle Nike or adidas.And Pastel is light color is very cute.Famous bland of Pastel is Anna.And Princess fashion is pretty.Famous bland of Princess fashion is Lis Lisa. 
Finally, 2 people answerd nothing special or anything. 
In resolt,we thought many peopole attach greater importance easy to wear  than design.